Dental Crowns in Countryside & Indian Head, IL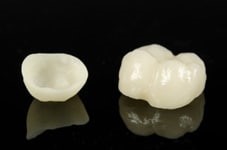 Do you want a smile that is not only beautiful but also strong? Over time, our teeth may weaken or break due to normal wear and tear. If you experience this problem with one or more of your teeth, let us help you by restoring the strength and look of a full beautiful smile to your face! A dental crown is a cap (often made of porcelain, ceramic or an otherwise durable material) that is placed over your tooth in order to protect its structure and maximize its function. And since a crown can be matched to your natural teeth in both shape and color, it can be used to restore not only the strength of your bite, but the attractiveness of your smile.
Are You a Good Candidate for a Dental Crown?
Would you like to know if a dental crown might work for your mouth? There are many factors that may contribute to you being considered a good candidate for a dental crown, including:
Broken or damaged teeth caused by stress fractures or cracks
Misshapen or otherwise unattractive-looking teeth
Teeth that have become brittle or weakened from a root canal
Teeth that have weakened from having mercury fillings
To cover a dental implant or attach a bridge
Dental Crown Placement Process
The crown placement process is performed over two office visits. During the first visit, we will begin by preparing your tooth to ensure the proper fit for the crown. This is accomplished by reducing the size of your tooth, a process that is performed with the area numbed to ensure your maximum comfort. Once the tooth has been resized and is ready to receive the crown, we will make an impression of your tooth where the crown will reside. This mold is then sent to our dental laboratory to create your crown. A temporary crown will be placed until your permanent one is ready.
Once your crown has been made, you will return to our office to have it placed. At this time, your temporary crown will be removed and the permanent crown put in its place to check for a proper fit and color match (for porcelain and ceramic crowns). The crown is then bonded to your teeth using dental cement.
Why Choose Us for Your Dental Crowns?
Our practice's primary goal is to help create a strong, healthy smile for you, and maintain it for as long as possible. For this reason, the dental laboratory we work with uses nothing but the most durable materials to make your crown. Your crown will last years, protecting your tooth from further decay and improving the look of your smile.
How to Schedule an Appointment
Do you want a strong, natural-looking smile once again? A crown may be the best solution to restore the resilience of your smile. Find out more by scheduling an appointment with one of our dental professionals.